Japanese Olympic swimming team to train in Basildon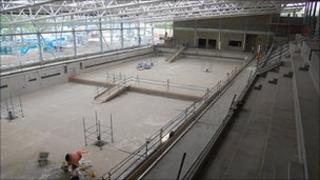 The Japanese Olympic swimming team is to use the new Basildon Sporting Village for pre-Games training in 2012.
The Japanese Swimming Federation has signed a memorandum of understanding with Basildon Borough Council and SLM Ltd, which will run the facility.
The team, which finished fourth in the swimming medals table in Beijing, will use the venue from 20 to 31 July 2012.
The £35m Sporting Village will have the only 50m pool in Essex when it opens later this spring.
The team, which picked up two gold medals in Beijing, will visit the venue later this year and in early 2012.
The swimmers will then train there ahead of the Olympic swimming programme which is scheduled from 28 July to 4 August.
'Fantastic facilities'
Basildon Borough Council's cabinet member for leisure and the arts, Conservative councillor Kevin Blake, welcomed the announcement.
"This is wonderful news and I'm delighted that we will be welcoming the Japanese swimming team to the Sporting Village," he said.
"Discussions are also taking place with their gymnastic team about what else we can offer."
The executive director of the Japan Swimming Federation, Koji Ueno, added: "Hopefully we can achieve some good results at the games by using the fantastic facilities at Basildon for the final conditioning training."
The agreement marks the first overseas delegation to commit to using one of the potential training camps in Essex.
The British diving team has already expressed an interest in using the Southend Swimming and Diving Centre in the build-up to the 2012 Olympic and Paralympic Games.