Chelmsford multi-storey car park to remain closed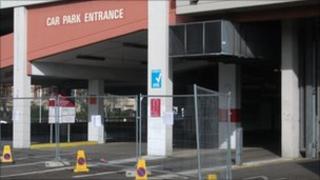 A multi-storey car park in Chelmsford will remain closed for at least another three weeks for safety checks.
The 1,000-car capacity High Chelmer car park was initially closed two weeks ago so tests could take place on concrete ramps and reinforcement bars.
It will now not reopen until 15 April at the earliest while a structural report is compiled and assessed.
However the north hall of the retail market and bus interchange on the ground floor will reopen this weekend.
The south hall of the market is due to reopen for stall holders on 5 April.
Market traders have had to relocate to the adjacent outdoor Market Square during the temporary closure.
'Absolutely sure'
The car park was closed on 11 April by Chelmsford Borough Council for precautionary reasons so specialist tests could take place.
Conservative councillor Ian Grundy, Chelmsford Borough Council's cabinet member for safer communities, explained the authority was unable to commit to a definite reopening date.
"We are expecting a full structural report from our advisors by the end of next week," he said.
"We will have to assess that obviously and will then make all the necessary decisions that follow from that.
"There's a lot of tests going on, chloride tests, cement tests, stress level tests," he added.
"It's an old 1960s building and we just have to be absolutely sure."
He added it was "too early" to assess the financial impact the closure has had on local business.