Broomfield Hospital begins trial of on-site bus service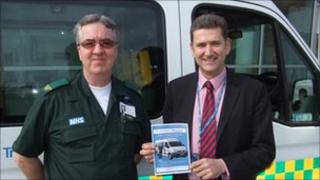 A two-month trial of a minibus service for patients and visitors at an Essex hospital has begun.
The 15-seat minibus will navigate a circuit of the Broomfield Hospital site every 20 minutes, dropping people off at four designated locations.
Patient groups had raised concerns about the difficulty of getting around the site, following the opening of its new five-storey wing last year.
It is estimated the service will cost £70,000 per year.
Since the opening of the £148m PFI-funded wing last autumn, regular bus services have no longer travelled around the site, stopping instead at the main entrance.
Maureen Hindle, chair of the Patient Council at Broomfield Hospital, near Chelmsford, said the enlarged layout meant many patients had struggled to get to clinics on the site.
"Lots of people need to go into the old part of the hospital for a lot of services and they thought it was too far for them to walk, especially if they've got a disability," she said.
"I think the response [of the hospital] is absolutely super. There's lots more to do, but this hopper bus is really what was needed."
Logistics problem
The chief executive of Mid Essex Hospital Services NHS Trust, Malcolm Stamp, acknowledged there was an issue with people navigating their way around the hospital site.
"I think what you're seeing is a classic NHS problem in many ways, where we have a new extension that doesn't accommodate all of our services," he said.
"Therefore some of the services remain in the old part and we get a logistics and communication problem between the new front entrance and the rest of the site.
"I think the important thing is to demonstrate that we listen and that we've tried to do something about this."
The bus will run on weekdays between 0830 BST and 1800 BST.