Chelmsford band helps raise £1,000 for Japan charity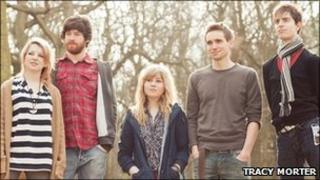 A band from Chelmsford has helped raised £1,000 for the Japan Earthquake and Tsunami Relief fund.
AOF, who are also known as Academy of Funk, headlined a show at the Barfly music venue in Camden on Saturday.
The event had already been organized, but after the events in Japan, the band decided to donate all profits to the relief effort.
"We are concerned that, as the media attention drops so will the donations," said band member Ben Cormack.
"The crowd were brilliant, there was a great atmosphere and an overwhelming amount of support.
"Everyone came out of the woodwork to help," the vocalist and keyboard player told BBC Introducing in Essex.
Every admission included a free album download from the band and a HD video from the night.
The unsigned band have just finished recording four new songs with The Animal Farm record label which they plan to release later this year.