Empty kiosk at Colchester bus depot used as art gallery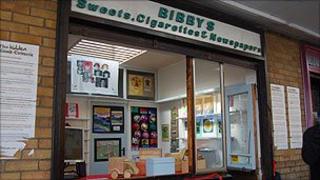 Art students in Colchester have taken up a residency in a disused retail kiosk at the town's bus station.
Artwork by 27 young adults who attend Colchester Institute will be on display in the former newsagents for a week.
Their residency is part of the Hidden Kiosk Project, run by the Creative Co-Op, that has invited people to submit inventive uses for the empty spaces.
They have been leased the kiosks by Colchester Borough Council until they are demolished later this year.
The two former kiosks became empty as a result of redevelopment of the St Botolph's area of the town.
"We're looking to make these kiosks available to anyone who has got a brilliant, creative idea that will help to bring some colour and excitement to this area," said Lee Pugh, who helps run the project.
'Really beneficial'
The latest tenants in the former newsagent's kiosk are students with learning difficulties from Colchester Institute's Pre-Foundation programme.
"It's been lovely for them to actually display their work and for parents and family to come and see what we're doing," said course lecturer Janet Hughes.
"I think what's really been beneficial is the fact that they've had to organise the whole event.
"It's made them understand that if you want to achieve something you have to go out, you have to write to the mayor, invite the press, do the artwork and that has been really beneficial."
One of the students, Sophie Gardiner, said: "At the moment the bus depot is dull. We can brighten it up.
"It's good that we can interact with the community, giving us the chance to show our talents."
'Creative regeneration'
Creative Co-Op are still looking for people to submit their ideas for the kiosks, which they expect to have until at least September.
"It doesn't have to be art," said Mr Pugh.
"The key thing is it needs to help us work towards bringing about some creative regeneration to this whole area.
"[For example] we had a fantastic young lady from Colchester who had a vegan cake shop.
"She was doing that for four weeks, on a Monday and a Wednesday, so the project is really flexible.
"At the moment we've got at least a dozen submissions, so we're hoping to get as many as possible during the amount of time we have here."