Street cricket scheme launched across Essex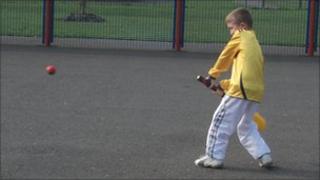 A scheme to encourage disadvantaged young people to take up cricket has been launched in Essex.
The Street20 project aims to get children from housing estates and deprived areas involved in the game.
The programme will be run by the Lord's Taverners Cricket for Change charity along with Essex County Cricket Club.
"Cricket is a powerful tool which we believe will change their lives," said Adam Hall, development manager for Cricket for Change.
The three-year programme was launched in Basildon and it will be rolled out to towns in the county.
As well as teaching children Street20, a six-a-side, 20-ball format of the game, they will also be trained to coach others.
"It's about bringing cricket to a street level, to housing estates where cricket has not traditionally been played before," said Mr Hall.
'Dreams and ambitions'
Mr Hall believes the game could be used to help areas of social deprivation.
"A lot of these young people don't belong to sports teams, but this is now going to be their team," he said.
"They get friends, they gain hopes, dreams and ambitions."
The new Street20 teams in Essex will compete in a countywide competition that will eventually lead to a national final in August.