Essex couple mark 50 years of living alongside A12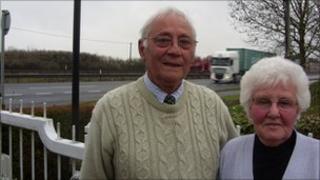 A couple are marking 50 years of living next to a busy dual carriageway once labelled the worst road in Britain.
John and Grace Willis moved into their bungalow, which faces the A12 just north of junction 24 at Kelvedon, on their wedding day on 1 April 1961.
The dual carriageway, which connects Greater London with East Anglia, is one of the busiest roads in the region.
"It's lovely, I wouldn't want to live anywhere else. It's not a problem at all," said Mrs Willis.
'Ideal location'
"We've often said 'where else would we go?' We couldn't live on an estate, because we've never had neighbours."
"You must respect the A12. We live on it and we respect it. We never take chances."
In 2007 a survey of 4,000 drivers found a stretch of the A12 near Colchester was especially bad for congestion and pot holes.
Rather than it being a hindrance to them, Mr Willis said it was an ideal location.
"We haven't tried to block it off because we've enjoyed seeing everybody and when you're indoors you can't hear the noise a lot," he said.
"We've got a garage next door which is open 24 hours-a-day, for fuel and anything that we haven't got in the house that we want."
The couple said they had only once considered moving.
"We did think about moving when we had all three children and the bungalow wasn't big enough," said Mrs Willis.
"We took them out in the car, drove around [looking at houses] and they sat there with faces as long as anything.
"They wouldn't get out and look at anything and no way were they going to move. So that's why we put a top on it."
'Done us well'
The couple said they had seen some "nasty accidents" over the past half century, particularly when there was a turning gap opposite their driveway.
"We know when there's been an accident because it [traffic] comes to a stop," said Mrs Willis.
"It can be stopped for four, five, six hours. It's peaceful, but we can't get out, we have to stay here."
Nevertheless, they have a fair amount of affection for their noisy neighbours.
"It's done us very well. In fact I'd rather use the A12 to go in and out of our house than Kelvedon High Street or Witham High Street," said Mrs Willis.