Two jailed in Turkey over Essex man's parasail death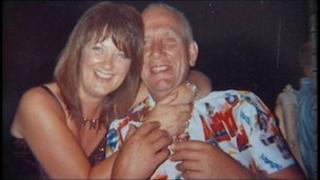 Two men have been jailed in Turkey after a father plunged to his death in a parasailing accident.
Glenn Hudson, 50, from Wivenhoe, Essex, was strapped together with his daughter, Emma, 26, when his harness snapped on 24 July last year in Side.
The driver of the speed boat pulling the parasail and the owner of the Turkish parasail company were found guilty of criminal negligence.
They were jailed for 20 months at Manavgat Court, Antalya Province.
Emma Hudson said at the time that her father was joking about the harness failing and how peaceful and safe the trip was when he suddenly dropped from the sky.
Now his wife Linda, Emma Hudson and Mrs Hudson's son Benn, 23, said lessons must be learned from the tragedy and safety improved.
The family want more rigorous safety checks to be put in place before the summer season.
"There were no checks," said Mrs Hudson.
"They just strapped them in and sent them up. You think these people know what they are doing - you presume it is safe.
"I won't let what happened to Glenn go and I will fight for better safety regulations. Even if it saves one more life it will have been worth it."
Katie Jones, from solicitors Irwin Mitchell who fought the case on behalf of the family, said: "This has been an incredibly difficult year for Mrs Hudson, Emma and Benn, who have been devastated by the loss of a loving father and husband.
"Although they feel that no prison sentence will ever make up for what they have suffered, they are relieved that some justice has been done and welcome the decision taken by the Turkish court to issue custodial sentences."
In parasailing, also known as parascending, the person attached to a parachute is towed behind a vehicle, usually a boat.