Man arrested over catapult attack in Chelmsford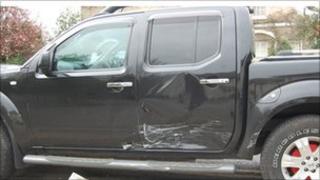 A 40-year-old man has been arrested after two men were shot at with a catapult as they left an Essex court.
The men were in a car which was fired at with ball-bearings as they were leaving the county court in Chelmsford on Monday. Neither man was injured.
The car was then involved in a collision. A man from the Huntington area of York was arrested on suspicion of possessing an offensive weapon.
He has been released on bail until 11 June pending further inquiries.
Ball bearings and a catapult were recovered from the scene.
Anyone with information about the incident is asked to contact police.