Jail term for Essex sham marriage fixer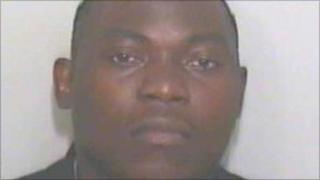 A man who arranged a sham marriage at a church in Essex has been jailed for three years.
Abdallah Magezi, 36, was convicted at Basildon Crown Court of conspiring to facilitate a breach of UK immigration law.
Magezi set up a wedding between Dutch woman Roqsilmar Marti, 28, and Nigerian man Gafar Makanjuola, 32, at St John's Church, Dock Road, Tilbury, last year.
The couple pleaded guilty to the same charge at an earlier hearing.
They will be sentenced at a later date.
The court heard Makanjuola hoped his marriage to an EU national would help him gain long-term residency in the UK.
Deep pockets
Officers from the UK Border Agency's immigration crime team stopped proceedings before the wedding ceremony had taken place.
Andy Harvey, from the immigration crime team, said: "Magezi was the Mr Fix-it of the operation. He was the one pulling the strings.
"Magezi sought to undermine the UK's immigration laws for personal profit. His only motivation was money and he treated the marriage ceremony as nothing more than a financial transaction."
The court heard Magezi was stopped by police outside the church and ran away before being arrested.
The court heard he had Marti's identification card in his pocket when he was found, which the prosecution said he had kept as insurance that she would go through with the ceremony.
Magezi told the court he believed the wedding was genuine and he ran from the officers because he thought he was being robbed.
He said he had kept Marti's ID card for her because he had deep pockets.