BBC Introducing in Essex supports police '2Smart' tour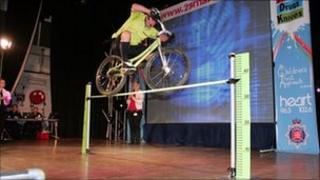 BBC Introducing in Essex is working with a number of organisations to educate young people on bullying, alcohol, drugs and knife crime.
The '2Smart' project organised by Essex Police will target 15,000 Year 7 school pupils across the county.
"It's all about giving kids the information to make all the right decisions themselves," said Essex Police's Sgt Matt Bell.
The tour will visit five Essex towns, starting in Chelmsford on 12 May.
Introducing in Essex presenter Ollie Winiberg who will be co-hosting the event told BBC Essex: "It's absolutely fantastic.
"Part of what we're doing at '2Smart' is putting two unsigned Essex bands on, Missing Andy and Colchester's Angry vs the Bear."
Show co-host and '2Smart' performer, Nav the bald MC said: "Hopefully we'll get the message across in a really fun way, using sport, drama and music.
"Most kids can connect to music or sport in one way or another.
"If we can make it fun for the kids they're more likely to take the message onboard," he added.
Now in its 15th year the original campaign was '2Smart 4 Drugs', but it now covers knives, alcohol and bullying.
"It's very difficult to value on how much success this stuff has, but from an Essex Police point of view this is a really important part of what we are delivering," said Sgt Bell.
"So much so that even in cash strapped times we are still putting quite a chunk towards it, and we hope to be able to do so in the future."
The tour will also visit Colchester, Basildon, Southend and Brentwood.