Toot Hill phone box becomes tourist information kiosk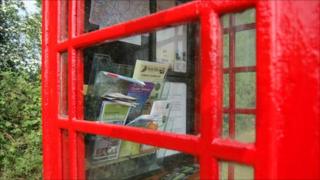 A disused red telephone box in an Essex village has been turned into a tourist information kiosk.
The booth in Toot Hill, near Ongar, was purchased from BT by the Stanford Rivers Parish Council for £1.
After coming up with the idea of what to do with it, villager Bill Heffernan has restored the box for use as a resting point for passing walkers.
"I thought it would be an ideal place to have some literature and a place to rest," he said.
"We've got a stool and a little table and, although there's not a lot of space in here, they could eat their lunch."
The phone box is situated a few yards from the popular Essex Way footpath which runs from Epping to Harwich.
British heritage
Mr Heffernan, 64, said the refurbishment, which cost in the region of £500, had included the replacement of all the panes of glass and repainting the interior and exterior.
It now has a variety of leaflets about attractions in Essex and London, useful telephone numbers and a map of the local area.
"Passing people just stop and talk about it, their attention has been drawn to it," said Mr Heffernan.
"People have been ringing me up to congratulate me on it which is nice."
The kiosk is one of a number of red phone booths around the country to be given new uses, such as libraries and village stores.
Mr Heffernan hoped these might inspire others to do something similar.
"We need something to pass on to our children from the past" he said.
"The heritage part of Great Britain I feel is very important for our children. So if it does inspire other people to do it, go for it.
"It is a bit of work, but it is worth doing."