Grass fire at Lion Creek nature reserve 'heartbreaking'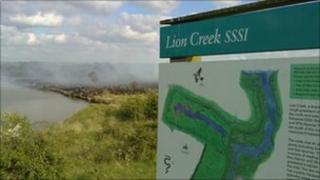 Damage caused by a grass fire at a site of special scientific interest in Essex has been described as "heartbreaking".
One hectare (2.4 acres) of grassland on the Lion Creek Nature Reserve near Canewdon was destroyed by the fire which broke out on Monday.
Mike Wright, a former warden at the Essex Wildlife Trust owned nature reserve, said it was a "sad day".
"It's heartbreaking to see it like this. An awful lot of wildlife will have been lost as a result," he said.
The remote 12 acre (4.8 hectares) reserve alongside the Crouch Estuary combines grassland and salt marsh.
Mr Wright explained unusual species of damsel fly, crickets and other insects were known to inhabit the site.
He was hopeful the wildlife at the reserve could soon recover from the fire.
"About 20 years ago we had an even worse fire here," he said.
"We thought it would never come back to normal, but it did quite quickly and now here we are again in the same situation."