Tribute to haulier killed in M11 Essex coach crash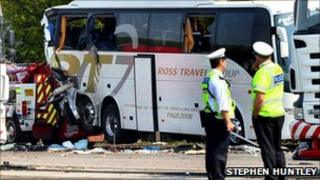 A tribute has been paid to a lorry driver who was killed in a crash on the M11 in Essex which left another person dead and injured another 49 people.
Zdzislaw Piorko, 53, of Maidstone, Kent, died in the crash involving a coach and his vehicle that took place near junction nine for Saffron Walden.
His family said he was a very positive and happy man who would be missed.
A passenger on the coach, Delia Walker, 63, of Pontefract, West Yorkshire, was also killed in the crash on Saturday.
Mr Piorko had driven lorries for 30 years and moved to the UK from Poland to work six years ago.
'Cried for'
He lived with his partner Bozena, and her 20-year-old son, and also had a son called Maceij who is 30 and lives in Poland with his wife and two children.
Mr Piorko's partner said: "He will be missed and cried for by all who knew him."
The crash involving a coach, carrying nearly 50 people from the West Yorkshire area, and a lorry took place near junction nine of the M11 at about 0220 BST.
It was on the way to Dover taking passengers bound for Belgium on a one-day shopping trip.
Firefighters from Essex and Cambridgeshire used rescue equipment to free the two victims but they were pronounced dead at the scene.
Of the 49 other passengers hurt in the crash, six suffered more serious injuries.
Essex Police said three people remained in hospital with neck and back injuries.
The force has launched an investigation into the cause of the crash and are asking any witnesses to contact them.