Cyprus death crash men from Witham released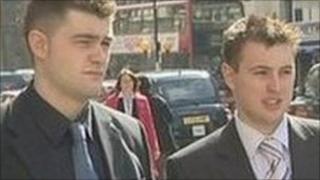 Two Essex cousins, convicted of the manslaughter of a teenager in Cyprus, have been released from prison.
Michael Binnington, 23, and Luke Atkinson, 24, from Witham, were in a car which hit and killed moped pillion passenger Christos Papiris, 17.
They were extradited to Cyprus in 2009 to serve three-year jail terms but were returned to serve some of their sentence in the UK.
The car was being driven by the Atkinsons' uncle, Julian Harrington.
Harrington, also from Witham, is serving a 15-year jail sentence after admitting manslaughter and causing grievous bodily harm.
Atkinson and Binnington said they were only involved "unwittingly" as back-seat passengers and were drunk.
The men were initially acquitted by a Cypriot court in February 2007, but that verdict was overturned by the Supreme Court of Cyprus in January 2008.
Their legal team argued that the court acted unfairly in sentencing them when they had previously been acquitted of conspiracy to commit manslaughter.
The pair served six months in a Cypriot jail before being transferred to a prison in the UK.
They have now been released on license having served half of their term.
The dead Cypriot teenager's mother, Georgia Papiris said she was not upset by their release: "The main thing for me is that they were found guilty by the court.
"How many years they were in jail is not for me to know, it is for the judges."