Endangered spur-thighed tortoises found at Stansted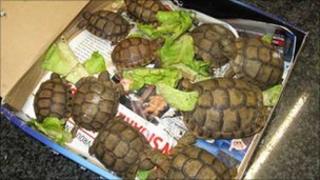 Endangered tortoises have been found by UK Border Agency officials at Stansted Airport in Essex after allegedly being smuggled into the country.
The 15 spur-thighed tortoises (Testudo graeca), worth up to £300 each, were underweight and infested with ticks.
They were in three cardboard boxes that had been placed in a bag in the hold of an aircraft from Morocco.
A 54-year-old woman from Plymouth was arrested and released on bail pending further inquiries, the agency said.
The importation of tortoises is restricted under the Convention in International Trade in Endangered Species (CITES) and they can only be brought into the UK if the correct permits have been applied for and issued.
The tortoises are in quarantine while plans are made for them to be rehomed.