'Great Escape' journey to be revisited by officer's son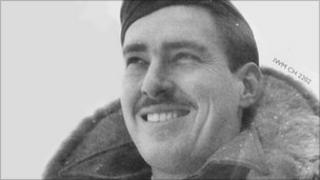 The son of a prisoner of war (PoW) immortalised in the film The Great Escape is to revisit the scene of his father's bid for freedom.
Sqn Ldr Thomas Kirby-Green was shot dead by the Gestapo after successfully breaking out of the Stalag Luft III prison camp in March 1944.
His son Colin, from Brightlingsea, will be part of the Great Escape 2 challenge navigating 3,000 miles across Europe.
The event aims to raise £10,000 for Help for Heroes and the British Legion.
The two-week tour will visit several locations on period-style Triumph motorcycles.
Mr Kirby-Green said: "It will be exhausting but amazing. We move on every single day to something new apart from three nights in Zagan where the [prison] camp was.
"It's a great privilege to be taken along because I've never visited my father's grave before in Posnan and also Stalag Luft III which is a few miles away."
'Touching ceremony'
The Great Escape 2 will start at Biggin Hill in Kent on 4 June and visit 12 countries, stopping at several significant locations in the story that inspired the 1963 film starring Steve McQueen.
The camp, is now on land belonging to Poland, but in 1944 rested deep in Germany.
In addition Mr Kirby-Green will also visit the town of Hrabuvka in the Czech Republic where his father and fellow escapee, Canadian airman Gordon Kidder, were recaptured and executed.
He explained he had only recently learned of a memorial to them that was erected there in the mid-1990s.
"They have been honouring it with a most touching ceremony with schoolchildren and local dignitaries every year on the anniversary," he said.
"We're going to spend a couple of nights as the guests of the council and then will meet up again with the team."
He will also visit the Reichswald Forest War Cemetery in northern Germany where his father's air crew, who were shot down whilst on a mission in 1941, are buried.