Olympic torch relay to stop overnight in Chelmsford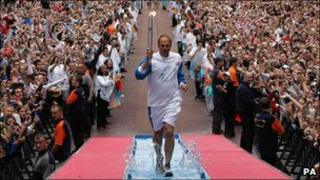 The Olympic torch relay is to stop overnight at an Essex town as part of the build-up to the 2012 Games.
The torch will arrive in Chelmsford on Friday 6 July as part of its 70-day tour of the UK on the way to the opening ceremony on 27 July.
An evening of celebration events will take place to mark the flame's arrival, before it tours the town.
Essex County Councillor Stephen Castle said it was a "once in a lifetime opportunity" to see the torch.
The torch relay will begin at Land's End, in Cornwall, on 19 May 2012 before heading through towns and cities across the UK.
Chelmsford will be one of 66 locations to host evening celebrations on the route.
A 20-minute community performance will be staged as part of celebrations.
'Very proud'
The event will be brought to a close with the lighting of a cauldron with the Olympic flame.
Councillor Ray Ride, who worked on the bid for Chelmsford Borough Council, envisaged a large turnout for the torch's arrival.
"I am very, very proud that our hard work has come to fruition and we will be welcoming the Olympic Torch convoy through Chelmsford just three weeks before the Games are due to start," he said.
"It will ignite a spark to light up the occasion."
Mr Castle, county council cabinet member for the 2012 Games, added: "Our county is in a fantastic position to enjoy the London 2012 Games and what better way to start the festivities than to host an evening celebration in the heart of Essex.
"I urge people to get involved and make the most of the once in a lifetime opportunity to see the Olympic torch procession so close to home."
A total of 8,000 people will each carry the torch for about 300 metres.
Its arrival at the Olympic Stadium in Stratford will mark the start of the Games. The London 2012 organisers hope the flame will come within one hour of 95% of the UK population.