Olympic torch bearer Crates recalls 'great honour'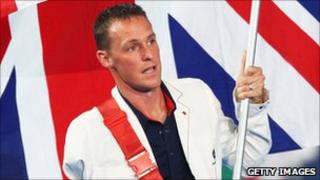 Former Paralympic gold medallist Danny Crates has described carrying the Olympic torch as a "great honour".
The Essex athlete was one of the torch bearers when it visited London ahead of the Beijing Games in 2008.
The nomination process to find the 8,000 torch bearers for the London 2012 Olympics has been launched by the games' organisers.
Mr Crates said: "It's a privileged position to be in and a great honour to have the opportunity to carry it."
"You're carrying something that's so iconic - that flame on the top symbolises so much to so many people."
Mr Crates, 38, from Heybridge, won gold in the T46 800m at the Athens games in 2004.
He was part of the torch relay alongside the River Thames in 2008 and involved with the initial bid to get the Olympics to London.
He recalled being quite anxious about the responsibility of carrying the flame with the world watching on.
"It's amazing to think you're carrying something that's been on such a journey," he said.
"What the flame represents is the Olympic spirit and how people can come together without prejudice, without a political agenda, just for the pure power of sport.
"That's why we were so proud to carry that flame."
'Amazing experience'
The Olympic torch relay will begin at Land's End in Cornwall on 19 May 2012 and tour the UK until reaching its final destination at the Olympic Stadium in Stratford on 27 July.
Chelmsford will host one of the overnight stops along the torch relay route on 6 July.
Mr Crates, who retired from athletics in 2009, believed it would capture the imagination of the public.
He said: "I've been to three Paralympic Games and trained with most of the British Olympians.
"I've seen what happens when the Olympics and Paralympics comes to town and it really is an amazing experience for the whole nation."