BBC Springwatch show to feature Pitsea landfill site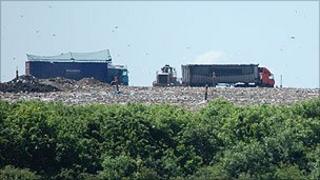 A landfill site in Essex is to be one of the featured locations on the BBC's Springwatch programme.
The site in Pitsea, one of the largest in the south-east, will be visited by presenter Liz Bonnin who will look at the wildlife found at refuse tips.
The Veolia Environmental Services run site is set to be turned into a RSPB managed nature reserve at the end of its operational life.
The RSPB's Marc Outten believed viewers would be surprised by its ecology.
He said: "It's not quite the usual Springwatch site that they will film, so I think they'll really be surprised by the wildlife and biodiversity up there."
The Springwatch team will be at the south Essex site for week three of the series, between 13 and 17 June.
The 240 hectare (593 acre) site accepts about 300,000 tonnes of waste per annum, but according to the RSPB's South Essex Marshes site manager, it is also a haven for a wide variety of species.
Diverse wildlife
Mr Outten said: "The wildlife that's here will be attracted by the vast quantities of food that's on site.
"They'll be a whole range of mammals, badgers will be nearby, stoats, weasels, foxes.
"Then there will be a good variety of birds as well; we get corn buntings around the area, the beautiful song from the skylark and also huge flocks of starlings feeding on the rubbish.
"Now and again you'll get a bird of prey, such as a peregrine, that will go steaming in through these flocks."
The landfill site sits adjacent to the new RSPB Bowers Marsh, which is due to be completed later this year, and close to the West Canvey Marsh which opened in April 2010.
Mr Outten said the interest from the television series was a chance to show-off the diverse nature of the locality.
He said: "It really is exciting for the RSPB in south Essex. It's a very new project and raises the profile not only of our own site, but also of south Essex."
The new series of Springwatch, presented by Chris Packham and Kate Humble, began on Monday from its new base at Ynys-hir reserve in Wales.