Tour Series cycle race boss happy with Colchester event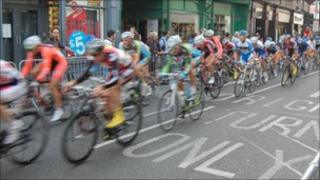 An Essex town has been praised by the riders and organisers of a professional cycle race series.
Colchester hosted the fourth round of the town-centre based Tour Series on Thursday evening.
The hour-long race around a 1.6 km (0.99 mile) circuit was won by Rapha Condor Sharp team rider Dean Downing.
Chief executive Hugh Robertson said: "It's really good to build on a partnership we've created with the town over the past few years."
"We're always pleased to come back to Colchester. The people who run it from an events perspective are all incredibly co-operative."
The race was the third big cycling event to be held in the town in the past three years.
It hosted the Tour Series in 2009 and the penultimate stage of the Tour of Britain in 2010.
Mr Robertson, who is also head of the Tour of Britain, believed the county had earned a place on the professional racing scene in the UK.
He said: "I'm absolutely certain that before too long we'll also be back in Essex with the Tour of Britain and who knows, we might even bring back something even bigger.
"Because we're so close to London it would mean, for example if the Tour de France were ever to start in this part of the world, this would be a very good place to have it."
Race winner Dean Downing said the course, which ran up the High Street, along Head Street, down St John's Street and up Queen's Street had provided a real challenge for the riders.
"It's one of the longest circuits and one of the toughest because it had quite a lot of tight corners around the back.
"I looked down at the speeds and we were doing 55 km/h (34 mph) down the back straight [along St John's Street], but there was a head wind and that was the hardest part.
"Then the last section was all uphill to the finish line."
The next round of the Tour Series takes place in Stoke-on-Trent on 7 July.