Lack of rain concerns Chelmsford tropical fish breeder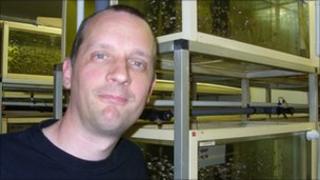 A tropical fish breeder from Essex fears his business could be harmed because of the current lack of rain.
Keith Naitby, from Chelmsford, uses thousands of litres of rain water to fill the tanks at his farm's hatchery.
Following one of the driest Springs in a century, he said he was unable to provide the conditions necessary for them to spawn effectively.
He said: "It's not a very good situation. As soon as that rain comes I can start breeding the fish again."
Mr Naitby, who breeds a range of species for the UK tropical fish industry, said rainwater's acidity was vital to his business.
"As soon as the fish go into soft acid water they will breed.
"All the natural streams that these fish come from, whether that's South America or Asia, are soft acidic water conditions which is what encourages them to spawn.
"These fish have been bred for generations in rainwater, though it is possible for them to spawn in tap water.
"But unfortunately if you do that, a lot of the eggs will not hatch. It's rainwater or nothing for me."
'Almost nothing'
Mr Naitby harvests the rainwater from his hatchery roof, which is then purified and fed into the fish tanks.
But he said he could not recall a similar drought situation during his 15 years of breeding tropical fish.
"It only needs to rain for a short amount of time. An hour of rain at the most and 3,000 litres (659 gallons) will be in here.
"A lot of the tanks are empty at the moment ready to be filled up with rainwater ready for the brood stock to go into them."
He added: "Normally at this time of year my tanks are always full up.
"There's at least 30,000 litres (6,559 gallon) of water in the tanks that I store the rainwater in. But there's almost nothing at the moment."