Clacton beach huts restored after being damaged by fire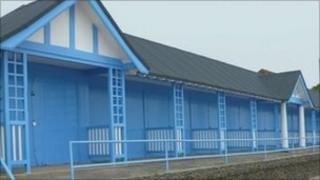 A row of 1930s beach huts at an Essex seaside resort that was damaged by fire has been rebuilt at a cost of £92,000.
The 11 blue and white huts on Clacton seafront were badly damaged by the fire which started in one of the chalets in May 2010.
All 11 were knocked down and rebuilt over an 11 week period.
The huts are owned and leased out by Tendring District Council, who said the full cost of the rebuild had been met by the council's insurers.
Stephen Mayzes, council cabinet member for tourism and community life, said: "The chalets are very much a part of the town's heritage and we are fortunate they were not completely destroyed in the blaze."