Olympic legacy money for Essex sports coaching courses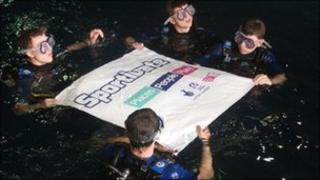 Nearly £1m is to be spent in Essex to encourage young people inspired by the 2012 Olympic Games to take up a sport.
The Sport England-run Sportivate scheme will give £957,480 of National Lottery money to fund coaching courses for people aged between 14 and 25.
It is hoped 9,000 people will take part in one of the six to eight-week coaching courses run by sportessex.
The money is part of a national four-year £32m scheme to deliver the Games' pledge to create an Olympic legacy.
Essex has received the largest share of money in the East of England.
Sporting benefit
David East, chair of sportessex, explained the scheme went beyond just the coaching sessions.
He said: "It's to get people locked into thoroughly enjoying a sport, seeing what they can get out of it.
"Then [it's about] moving into a club situation afterwards where they can continue to enjoy that sport and benefit from it afterwards."
The Essex programme was launched at a scuba diving centre in Basildon.
Councillor Stephen Castle, regional sporting champion for Sport England East, said it was aimed at people who would not normally get involved in sport.
He said: "A lot of kids get the chance to play football, netball or hockey at school.
"This is a chance to do some different sports, like perhaps archery, horse riding, scuba diving, sailing - the sort of things that are very difficult for schools to put on."
People who complete the courses will also be eligible to take part in a ballot for free London 2012 tickets.