Coastal deprivation conference held in Clacton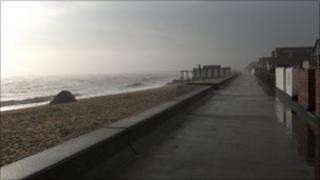 An international conference looking at the issues facing coastal towns is being held in Clacton, Essex.
Officials from across Europe are joining representatives from local and national UK government to examine problems faced by coastal areas.
Social and economic deprivation, access to European Union funding and renewable energy possibilities will be among the subjects discussed.
Local government minister Bob Neill will also speak at the event.
Delegates from countries including Russia, France, Turkey and Malta will be joined by those from coastal districts around the UK.
Tendring District Council leader Neil Stock said it was important to find new ways of dealing with the problems faced by coastal areas, with extra government money being at a premium.
'Better ideas'
He said: "I want to speak to them and find out what they're doing to tackle these kind of problems.
"Some of them will be ahead of us and some will be behind. Some are coming to find out what we're doing to tackle it.
"I hope we can share information and learn from each other."
Tendring has a number of the poorest wards in the country, with a recent government report naming the Brooklands estate in Jaywick as the most deprived neighbourhood in the UK.
Mr Stock said deprivation was a common problem for coastal towns and villages.
He said: "It's due to the fact that we're on the seaside, you can't go any further, the road is going to run out and you don't get the infrastructure you need.
"Tackling it is a very difficult thing, especially when there's no money available.
"We've got to come up with other solutions and better ideas than simply chucking money at problems."
The two-day conference is being hosted by Tendring District Council, Essex County Council and the Council of Europe.