Five arrests in travelling crime crackdown in Essex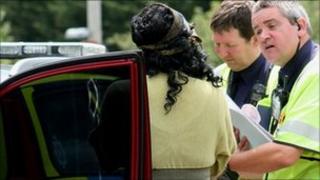 Five people have been arrested during a crackdown on suspected travelling criminals in Essex.
Two men were arrested for drink-driving, one for vehicle theft, one for immigration offences and a third on suspicion of obtaining a car by fraud.
Road safety officers stopped 87 drivers for driving while using mobile phones and 117 for not wearing seat belts.
Two commercial vehicles were found to be overweight and four vehicles had illegally tinted windows.
More than 50 other traffic offences were detected, a police spokesman said.
The operation, codenamed Nash, was centred on stop check sites at Hastingwood near Junction 7 on the M11, outside The Bell Hotel in Epping and at sites in Loughton and Chigwell.
Sgt Danny Parsons, from Essex Police, said: "The results clearly show that more work is needed to educate road users about the dangers of using mobile phones or not wearing seat belts.
"These are some of the highest numbers we have had for a one-day operation and we will certainly be concentrating on the west Essex area as soon as possible to deal with offenders."