Witness appeal after Braintree woman, 89, killed by car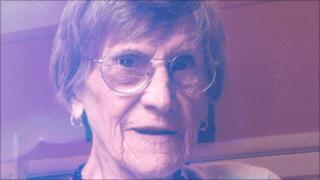 Police have appealed for a possible witness after an 89-year-old woman pedestrian died when she and another woman were hit by an car in Essex.
Gladys Sims was on Coggeshall Road in Braintree when she was hit by a Vauxhall which had been in collision with a van near Cressing Road.
Police want to trace the driver of a car that was in front of the vehicles involved in the crash on 24 June.
Essex Police said the driver could be an important witness.
A police spokesperson described the vehicle as a light or silver old Ford car with a tailgate, that was heading towards Braintree town centre.
A witness describes the driver as a man with ginger hair.
The 54-year-old woman with Mrs Sims suffered a bruised hip and grazing to her face during the incident.
The driver of the Astra car, an 88-year-old man, was interviewed by police.
A 36-year-old van driver, who was arrested on suspicion of death by careless driving, has been bailed until October.