Basildon Dale Farm traveller site eviction approved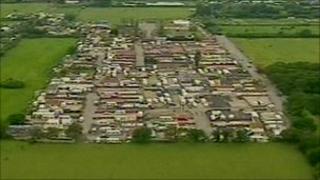 The final go-ahead has been given for the multimillion-pound eviction of travellers and Gypsies from an illegal site in Essex.
A meeting of Basildon Council on Thursday night backed plans to serve an eviction notice on the travellers at Dale Farm, near Basildon.
About half the 100 pitches on the site do not have planning permission.
Traveller families began to set up pitches illegally on greenbelt land at Dale Farm in 2001.
The Dale Farm Residents Association said it was "regrettable" that while planning permission was being sought for sites nearby, people on the site could be made homeless.
'Misery of eviction'
Policing the clearance of what is thought to be the largest traveller site in Europe could cost up to £9.5m.
The first £2.5m costs are to be met by Essex Police Authority (EPA). The next £2.4m is to be shared equally between the Home Office and Basildon Council.
The next £2.3m costs are to be met by the Home Office alone and it will share the remaining £2.3m costs with EPA.
Conservative MP for Basildon and Billericay John Baron said earlier: "I urge the travellers at the illegal Dale Farm site to now move off peacefully, as no one wants to see the misery of a forced eviction.
"If not, the eviction will proceed for it is only fair the law is enforced without exception."