Fire in thatched roof damages family home in Henham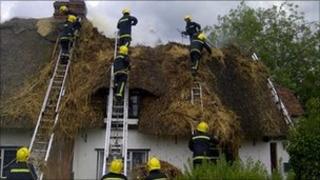 About 30 firefighters have tackled a blaze in thatch at a cottage in Essex.
The fire broke out at Henham, north of Stansted Airport, at lunchtime and the officer in charge reported 20% of the roof was well alight as crews arrived.
Seven fire engines attended and the cottage was saved from destruction, although the family of two adults and two children were unable to return.
"Thatch fire present firefighters with a great many problems," divisional officer Ray Skinner said.
"But the crews here worked extremely hard and thanks to them the fire was confined to the roof with only water and smoke damage to the remainder of the property.
"Crews quickly got to work stripping the thatched roof away to get to the seat of the fire and it is thanks to them that this cottage was not completely destroyed by fire."