Decapitated Northlands Park swan's mate is moved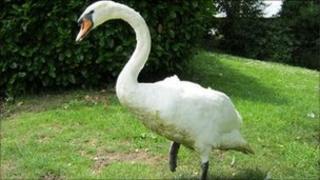 The female mate of a swan found decapitated at a lake in an Essex park has been relocated for her own safety.
Swans mate for life and the female had been lingering around the spot where the male's body was found at Northlands Park in Basildon.
The local council and the RSPCA had received a number of complaints of youths throwing stones at the female.
The swan has now been taken to a secure location with access to two lakes in private grounds.
Sarah Moran, Basildon Council animal control officer, said: "This is disgusting behaviour, and so soon after last week's incident.
"This swan has been through enough already and these thugs should be ashamed of themselves.
"Her departure will be a great loss to the visitors and staff at the park, but I am confident that her new home will provide a safe haven for her."
Hatched eggs
In April last year, the swan's four eggs were smashed by vandals who hurled stones, rocks, bricks, bottles, logs and tree stumps on to the nest.
The council parks team and Basildon Angling built a four-metre fence to protect the nest and allow the swan to hatch her eggs.
Last week, the body of the male swan was found by dog walkers on the lake bank with bite marks in it.
Youths with their dogs were spotted in the park on Friday evening.
Police are now trying to establish what happened to the swan and whether a dog owner allowed the incident to happen.