Brentwood council votes to remain in town hall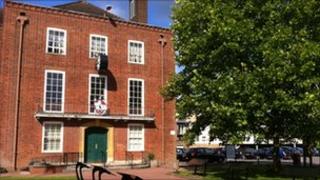 Councillors in Essex have rejected a proposal to sell or lease its town hall headquarters for redevelopment.
Brentwood Borough Council narrowly voted against the possibility of moving out of the building, half of which is currently unused.
Instead it was agreed that any empty space be given partly to community groups and the rest rented out as office space for businesses.
About 200 people held a march against the plan to sell before the meeting.
The alternative proposal, to stay in the building in Ingrave Road, was accepted by 19 votes to 17.
It was agreed that part of the building would be used to maintain the council's "civic presence within the original building".
'Landmark building'
The rest of the building will be for community and commercial use.
Conservative council leader Louise Mackinlay had proposed to move the main offices elsewhere, on grounds that the current building had become expensive to run and was not environmentally friendly.
Although she accepted the decision, she had concerns about how feasible it was.
She said: "I completely appreciate the sentiment about the town hall, it is a landmark building in Brentwood.
"We have to make sure the plan is deliverable, that was my concern.
"The next course of action is to see how we can make that happen."
The leader of the Liberal Democrat opposition David Kendall welcomed the decision.