Orsett Rio Recycling wood fire 'controlled' burnout plan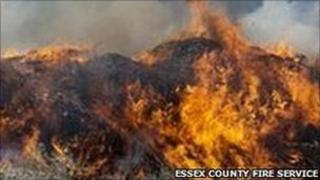 Firefighters are still tackling a blaze that broke out on Tuesday in 40,000 tonnes of recycled wood in Essex.
Firefighters called to the Rio Recycling in Orsett will remain there for several days, a spokesman said.
The wood chips are in a quarry 80ft (24m) deep and 600ft (183m) wide and will be burned out in a controlled way.
A spokesman for Essex Fire and Rescue Service said such fires were impossible to extinguish. The cause of the blaze is not yet known.
The A1013 has been closed in both directions from the Orsett Cock roundabout to the next roundabout towards London.
At its peak 11 crews were at the scene. Four crews remain while the controlled burn takes place.
Incident Commander Assistant Divisional Officer Mark Earwicker said: "Fires like this are impossible for us to extinguish, so we are allowing it to burn itself out in a controlled way.
"Firefighters will be here for some time to come."