Orsett Rio Recycling wood fire continues to burn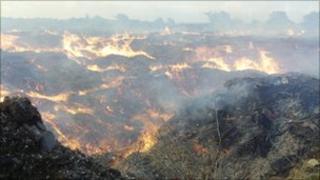 A fire involving 40,000 tonnes of recycled wood chippings in Essex continues to burn itself out.
Firefighters have been at the blaze at Rio Recycling in Orsett since 5 July.
The wood chips are in a quarry 80ft (24m) deep and 600ft (183m) wide and are being allowed to burn out, while controlled by firefighters.
Essex County Fire and Rescue Service said there was no imminent threat to surrounding areas. The fire is expected to continue into next week.
The cause of the fire is not yet known.