Environmentally friendly village hall to open in Essex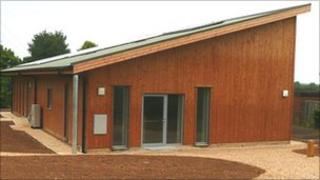 A village hall in Essex which has been designed by the local community to be as environmentally friendly as possible is to open this week.
The Eco Social Centre in Highwood, near Chelmsford, has nearly 80 solar panels which will provide 80% of its electricity and 60% of its heating.
It also features toilet cubicles made from old drinks bottles and car park blocks made from recycled plastic.
It is hoped that up to five tonnes of CO2 emissions will be saved a year.
Highwood Village Hall Committee secretary Petra Pipkin said they were "incredibly proud" to have got the hall built.
She said: "It's been a very long process and we've had many milestones that we've had to achieve along the way, but I'm incredibly proud that at last we've got there."
The village has been without a hall since the previous one was forced to close in 2001.
Mini-orchard
The local parish council has spent the past seven years raising the £450,000 needed to design and build a replacement.
It has received grants from organisations including EDF Energy, the government's Low Carbon Buildings Programme, the Big Lottery Fund and Biffa.
A garden, designed by students from nearby Writtle College, will be planted later this year.
As well as using recycled materials in its construction, a mini-orchard with native Essex fruit trees will be planted.
The design of the hall has been led by the people of Highwood.
Mrs Pipkin said they hoped it would be seen as a "flagship of what is possible" for how new buildings could be built to environmentally friendly criteria.
She said: "We wanted to show you could build a new facility to be sustainable long term and to work with the environment.
"So we wanted a building that was environmentally, economically and socially sustainable."
The new centre will be officially opened on Saturday.