Basildon Hospital faxed cancer details to wrong person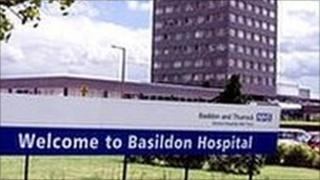 A hospital in Essex has changed patient communication procedures after cancer records were repeatedly faxed to a member of the public instead of a GP.
Basildon Hospital was reported to the Information Commissioner - the data protection watchdog.
He criticised Basildon and Thurrock University Hospitals NHS Foundation Trust and pointed out that guidelines banned the use of fax machines.
The trust now delivers cancer forms and sensitive material by courier.
The problem first came to light when a member of the public contacted Basildon and Thurrock Hospital Foundation Trust's internal data controller in November 2010.
The person said that several faxes had been received over a two-year period from the trust and a number of other healthcare providers.
An internal hospital investigation confirmed at least 10 faxes had been sent by mistake, to only one person but from several different internal departments.
'Human error'
Basildon and Thurrock University Hospitals voluntarily sent details of this data breach to the Information Commissioner's office.
"There was only one digit difference between the GP's number and the member of the public's number," the trust told the commissioner.
"The fax had been sent to the wrong number by simple human error."
In a statement the hospital said: "Measures have been taken to ensure the system is tightened up.
"After the error all telephone lists were checked that they contained the correct number for the target GP. The hospital decided to courier all patient meeting outcome forms to all GPs instead."