Shamed peer Lord Hanningfield's council allowance stopped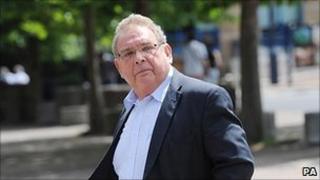 Essex County Council is to withdraw the £11,500 annual allowance paid to former leader Lord Hanningfield, jailed for fiddling his parliamentary expenses.
The 70-year-old peer, jailed for nine months earlier this month, was still eligible to claim the basic allowance.
But on Tuesday members voted to change the rules and suspend the allowance.
Meanwhile the BBC has learned the authority spent nearly £700,000 on chauffeur-driven cars over the past five years.
Lord Hanningfield, who appeared in court under his name Paul White, was convicted in May of six counts of false accounting relating to nearly £14,000 of claims.
He fraudulently claimed for overnight stays in London when he had actually returned home to Essex, and also for train fares and car mileage.
The Tory peer, who led the Conservative-controlled council from 2001 until his arrest in 2010, was jailed at Maidstone Crown Court on 1 July.
A police investigation is now under way into his expenses at the council.
'An abuse'
His use of a chauffeur-driven car to ferry him from the council to the House of Lords focused attention on the authority's chauffeur service.
A Freedom of Information request by BBC Look East revealed the council paid £677,733 to run chauffeur-driven cars over the past five years.
Liberal Democrat MP for Colchester Bob Russell said: "Frankly, I think it was an abuse. Essex did not need three chauffeur-driven cars.
"We know that because they've now cut it down to one."
Mike Mackrory, Liberal Democrat deputy opposition leader, said: "I find it quite extraordinary and one really wonders what on earth the journeys were and how that could be justified?"
The council now has one chauffeur-driven car, a Jaguar, used mainly by chairman Rodney Bass.
He told the BBC that if the prime minister could have a car, so should he, because of the number of functions he attends.
'Watertight system'
Essex County Council said it would continue to review the costs of the chauffeur service.
Peter Martin, its new leader, said: "We're certainly not a profligate council.
"We are extremely tight with our money. We are offering extremely good value for money to our residents."
He said the council had a new constitution and a new system for claiming expenses.
"I'm now confident that with all the action I've been taking we have a watertight system that is as good as, and probably better than, any council in the country," he said.