Princess Alexandra Hospital Harlow cuts jobs and beds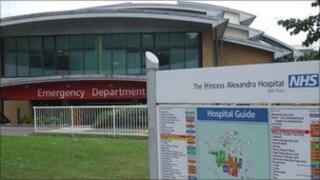 A hospital in Essex is to axe 250 jobs and close 60 beds in a bid to cuts costs and save money.
Managers at the Princess Alexandra Hospital in Harlow want to save £17m this year by cutting back office jobs.
The Royal College of Nursing (RCN) said in its experience cuts like this had an impact on front-line operations because paperwork was passed on.
Hospital Chief Executive Melanie Walker said the bed cuts would be offset by being "more efficient".
"We're looking to protect those clinical jobs that interface with patients as our priority.
"We're very clear that patient safety and care is what we are focused on in this organisation.
"The NHS has a £20bn saving target to achieve and this is our share of it."
The hospital is to change administrative procedures so clinical staff would not be burdened.
Threat of redundancy
"We are looking at reducing beds, but those reductions are about being more efficient about what we do.
"A lot of that work is done as day surgery now. It is about delivering modern health care in the right environment."
The hospital admitted there was a waiting list for operations but claimed it was working to return to the "normal operating rate" by October and the loss of beds would not have an undue impact.
Mike Kavanagh, representing the RCN in Essex, said: "Our experience in the past is when back office staff numbers reduce there has been an impact on nursing staff.
"While nurses and other clinical staff can pick up some of the extra administrative work, they can't do it as quickly as someone who is administrating.
"At the moment the Princess Alexandra Hospital are looking for 90 voluntary redundancies.
"It is likely that some of that 250 figure will be cut through natural wastage and turnover of staff and people retiring.
"But it's still 90 people at least who are going to be made redundant."