Daws Heath church to get '2012' stained glass window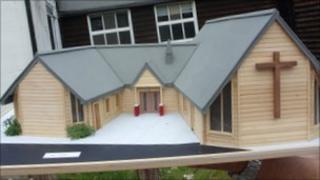 A competition has begun to design a 2012-themed stained glass window for a new church being built in Essex.
The £470,000 St Michael's & All Angels Church in Daws Heath, Thundersley, is set to be finished next year.
A 90cm x 120cm (3ft x 4ft) stained glass window will sit between the main chapel and our lady chapel.
Organisers of the competition said they wanted the window to be inspired by events like the opening of the church, the Olympics or the Queen's Jubilee.
The new timber building will replace the congregation's existing World War I Army hut building, which has been used as a church for 90 years.
Ken Jones, who is leading the project, said the window would be "a celebration of 2012" but did not necessarily have to be Olympic themed.
'Big thing'
He said: "We've got a new church coming, it's Olympic year, it's the Queen's Jubilee.
"[The Olympics] are a big thing in 2012 in this area, with Hadleigh being home to the mountain bike event. So maybe that is something that goes into the window.
"We certainly think St Michael would need to figure in the window somewhere."
People are also being offered the chance to "adopt" one of the logs being used to build the church in order to help raise the funds needed to complete the church.
The closing date for entries for the window designs is 30 November.