Man jailed over Daniel Smith's murder on Costa del Sol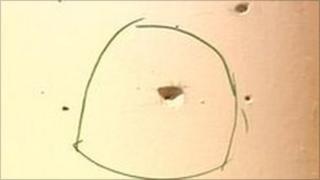 An Irish national has been jailed for 23 years for murdering an Essex man outside a bar on the Costa del Sol.
A court in Malaga, southern Spain, found that Eric Wilson, 27, shot Daniel Smith, from Billericay, seven times.
Mr Smith, 24, had been wanted by Essex Police in connection with the attempted murder of Douglas Turner on 7 July 2007 at Stock, near Chelmsford.
Mr Smith was murdered on 5 June 2010 after a row with Wilson at a bar in Mijas-Costa. Wilson had denied murder.
Wilson, who was also convicted of the illegal possession of firearms, was ordered to pay 100,000 euros (£88,000) compensation to his victim's family.
The court heard that Mr Smith had complained about Wilson's behaviour towards a young woman at the bar.
Wilson left but later returned to the bar and pulled out a 9mm pistol, shooting Mr Smith seven times.
He fled but was arrested 48 hours later at the mountain town of Coin, about six miles inland.
In the house where he was staying Civil Guard officers found a small hoard of weapons and a quantity of explosives.
Wilson told the court he was not in the bar when Mr Smith was killed, although he admitted being there earlier in the evening.