Orsett Rio Recycling wood fire still monitored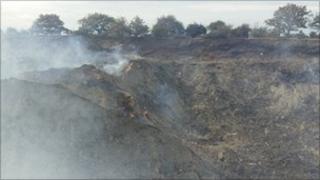 A recycled wood chippings fire in Essex which has been burning for two weeks is still being monitored by firefighters.
The blaze, involving 40,000 tonnes of wood in a quarry, started at Rio Recycling in Orsett on 5 July.
Crews left the site last Friday to allow it to burn out naturally, but are still visiting regularly to ensure it is safe.
Essex County Fire and Rescue Service said the risk of the fire spreading had "significantly reduced".
Assistant divisional officer Mark Earwicker explained why they had left it to burn out naturally.
He said: "With the copious quantities of water which would be required for this type of fire, there is a very real danger that the water run-off could contaminate drinking water supplies from local boreholes."
The smoke was "relatively clean" compared to other fires and did not contain any toxic elements, he added.
The cause of the fire, which is also being checked daily by Rio Recycling and on a regular basis by the Environment Agency, is not yet known.