Southend Pier redevelopment: Nesting birds blamed for downsizing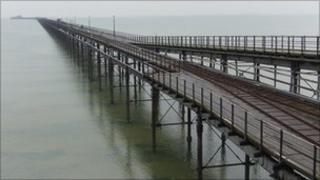 Plans to redevelop the end of Southend Pier have been scaled down after delays caused by nesting birds.
A £3m multi-use cultural centre and seating area was due to be completed by this summer, but scores of wintering ruddy turnstones delayed the work.
Following the hold-up, the borough council has revised the project, which will now be about 20% smaller.
The building at the head of the pier will be 360 sq m, rather than the original 450 sq m plan.
It will be used for conferences, exhibitions and cultural performances.
The proposals will go to the council's development committee in September and the new facility is set to open in early 2012.
The original plans would also have seen a 730 sq m extension built alongside the pier, on which the new building would have been constructed.
The extension will not now be erected and the building will go at the end of the pier.
Concerns were raised that the work would disturb the birds, which have now headed back to north Africa.
Derek Jarvis, Conservative councillor for culture and tourism, said: "We've downsized by 20%, but it will still have all the features in it that we originally planned.
"All councillors and members of the public have all seen what it's supposed to look like and this is the shape they will see. It will just be a little smaller."
The redevelopment came about in the wake of the fire which devastated the end of the Grade II listed pier in October 2005.
At 1.34 miles (2.16km), Southend Pier is one of the longest pleasure piers in the world.