2012 Olympic mascot Wenlock redesigned by Essex girl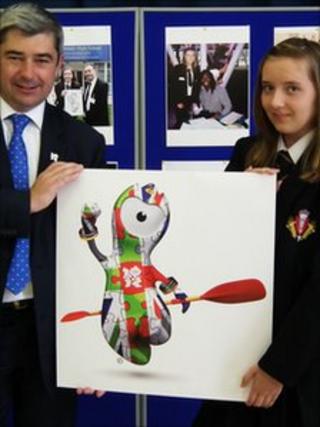 A schoolgirl from Essex has won a national competition to design a version of the 2012 Olympic mascot.
Beth Siddle, from Wickford, beat 2,500 entries to create a version of Wenlock that reflected the community she lived in.
As part of the prize the 14-year-old spent a day with a London design agency to turn her idea into a 3D animated graphic.
It will now be made into an official London 2012 pin badge.
The teenager's design sees the mascot made up of jigsaw pieces and decked in green and the colours of the Union Jack.
She said: "The jigsaw pieces represent the different members within the community in Wickford and how they all fit together.
"The green areas represent how environmentally friendly our area has become with recycling."
The competition was run as part of the Games organiser's "Get Set" education programme.
Among the judging panel were former Olympic triple-jump gold medallist Jonathan Edwards and paralympic basketball player Ade Adepitan.