London 2012 mountain bike course set for test event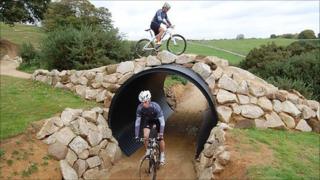 More than 100 of the world's best mountain bikers will race on the Olympic mountain bike course in Essex for the first time on Sunday.
Riders from 25 nations will compete in Hadleigh for the official test event ahead of the London 2012 Games.
Around 5,000 spectators are expected at the "London Prepares" competition.
Residents have been given special parking permits in an attempt to stop spectators from parking in roads near the course.
The event will be used to test the three mile (5km) course, as well as its organisation and transport plans.
Reigning champions
It will be the only time the riders will race on the course before the 2012 Games, although it is likely there will be some additional training days.
Martin Salt, mountain bike manager for games organisers LOCOG, said he believed the course would be a hit with both riders and spectators.
He said: "I think it's fantastic to have such a technically demanding course, with such a visual aspect for the riders.
"It's such a great opportunity for people to get up close to the action and see just how difficult it is."
Among the competitors at the test event will be reigning Olympic champions Julien Absalon and Sabine Spitz.
Team GB riders will be absent as they will be preparing for a qualifying event one week later.
Mr Salt said: "What we've got is wholly representative of the sport. We have the number one man and woman here and the two reigning champions.
Minimising disruption
"I think that would be your stand-out ambition to have the two riders in the best form and the riders holding the gold medals."
Just as important as the sporting competition will be the testing of the course's infrastructure and organisation.
One of the key challenges will be getting the 5,000 spectators to and from the event.
Car use is being discouraged and a park and ride service will operate from Canvey Island and a shuttle bus will run from Leigh-on-Sea railway station.
Venue transport manager Allan Gooch said they would do all they could to minimise disruption to local people.
He explained 3,000 homes close to the venue had been issued one-day parking permits to prevent spectators "dumping their cars in local streets and congesting it".
He said they would welcome feedback from residents after the event.