Clear up begins at Essex recycling site wood chip fire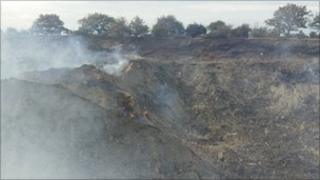 A clear-up operation has started at a recycling site in Essex where 40,000 tonnes of wood chip on fire for nearly three weeks is burning itself out.
The fire service has advised site owners Rio Recycling at Orsett they can use a tracked machine to pull down ash heaps from the fringes of the fire.
Once these heaps have been levelled, the remaining embers can be damped down and extinguished.
Once completely cool, the ash will be removed from the site, the firm said.
Two large cones of ash are still in flames and are producing smoke but are reducing in size.
Normal weather with calmer wind is helping to accelerate the burn-out process, but there is still no definitive time frame for the fire to be completely out, Rio Recycling said.
Jonathon Howard, communications manager at Rio Recycling, said: "We are being extremely careful to make sure that we can start the clean-up process whilst maintaining absolute safety for our workforce.
"Hopefully, over the next few days, we can rebuild the access tracks which were destroyed by the fire and get more of our equipment into the quarry to support the clean-up operation."