Landowners' apology over festival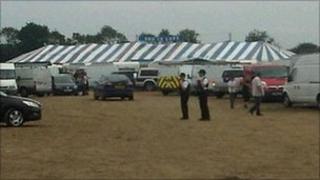 The owners of an Essex farm where thousands of Gypsies and travellers have been camped have apologised to villagers over the size of the event.
Hundreds of caravans and thousands of people have been at at Birkett Hall, Woodham Ferrers, near Chelmsford this week for a Christian festival.
Heather Richardson, one of the farm's owners, said she had been misled over the likely size of the gathering.
Police and council officers have been keeping a watching brief at the site.
The national convention of the Light and Life Church has been held on the 20-acre site at the farm with the owners' permission.
It began on Monday and is due to end on Thursday night.
But Mrs Richardson said she and her husband Peter had found "chaos" on their return from holiday on Monday.
"There were far more people than we were expecting or we were led to believe were coming," she said.
"The majority of people there are very nice and very Christian, and there for the convention of the Romany church.
"Unfortunately, this seems to have been hijacked on the fringe by less co-operative people."
Estimates of the numbers on site have varied from 600 to 1,000 caravans and 2,500 to 3,000 people.
Mrs Richardson said fields had been used as toilets and customers of her livery stables had been threatened.
"We feel sick and totally upset that our trust in them has been much abused," she said.
'A good problem'
"We have put out an unreserved apology to local people."
Pubs in the area also closed during the event on police advice.
Pastor Jackie Boyd of the Light and Life Church said more people had attended than expected and that he could understand the concerns of local people.
"It's never been this big before so it's a problem, but a good problem for us," he said.
Regarding claims of anti-social behaviour, he said: "If that's true, it's true - I can't deny that - but we don't invade anybody and we don't ransack: we rent a field, put up a tent and preach the gospel."
Extra resources
He said the site would be vacated and cleaned up on Friday.
Supt Joe Wrigley of Essex Police said extra police resources had been on site throughout the week and local businesses had been kept informed.
"There have been eight crimes reported to police in the area since Saturday. In the previous week this area sustained four; but these are not all necessarily connected to the event," he said.
"One of those is a violent crime which actually occurred on the festival site.
"There have been more reports of minor anti-social behaviour than usual; these include a banger going off, knocking on doors for work and people asking for directions."
He said police had been assured some people would leave the site on Thursday night and others on Friday morning.
"A full road policing management plan is in place to disperse people quickly and safely," he added.