Sea defence scheme in Holland-on-Sea gets go-ahead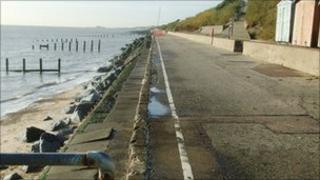 A £2.2m scheme to build new sea defences at Holland-on-Sea in Essex has been approved.
The work between Fernwood Avenue and Cliff Road has been given the backing of Tendring District Council's (TDC) planning committee.
The scheme, which will be funded by the Environment Agency, involves 230 metres of seawall supported by rocks.
It aims to stabilise the existing sea wall. Work is due to start in September and finish in March 2012.
'Urgent works'
Pam Sambridge, the council's cabinet member for technical services, said she was delighted that the project was a step closer.
"We had the financial approval from the Environment Agency and now we have the go-ahead from the planning committee," she said.
"These are urgent works and will be underway within two months."
Beach levels in the area have been significantly reduced in recent years and without this work there is a real possibility of the wall failing and then the cliff collapsing behind it, said the council.
"It is vitally important that we get on with this scheme to protect and enhance our coastline at Holland-on-Sea," said Ms Sambridge.