Stansted Airport officials seize fake designer clothing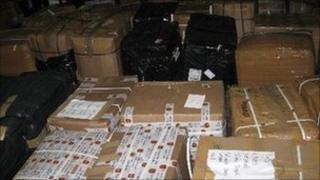 Counterfeit designer clothing worth about £750,000 has been seized by the UK Border Agency during a month-long operation at Stansted Airport in Essex.
As part of the campaign officers seized approximately 15,000 items. All the fake goods had been flown to the airport from Turkey as freight.
Faked designer brands that have been found include Giorgio Armani, Ralph Lauren and Gucci.
The discoveries were made during June, and have just been confirmed as fakes.
Sarah Wolstenholme from the Border Agency said: "We often see smugglers adopting quite sophisticated techniques in an attempt to evade detection, but in these three instances there was little subtlety involved.
"The items were all listed simply as courier material, with no commercial value.
"The fact that such limited information had been provided immediately attracted suspicion."
No-one has yet been arrested in connection with the findings.