Essex travellers festival site ruled out for future events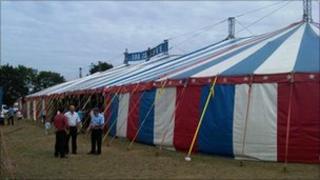 The owners of a field in Essex which was used for a Gypsy and traveller Christian festival have said it will not take place there again.
More than 100 residents in Woodham Ferrers met with the owners at a parish council meeting to discuss the event at Birkett Hall.
Last week's national convention of the Light and Life Church attracted about 2,500 travellers to the site.
Heather Richardson said the field would now be returned to agricultural use.
She said: "It will be taken over by a local farmer friend, who will cultivate it and put in crops for at least two years."
A wide strip will be left around the edge of the field for dog walkers and horse riders to use.
The festival was held on the 20-acre site at the farm with the owners' permission after a smaller regional convention was held on the land last year.
Mrs Richardson said she and her husband had been "very shocked" by the number of people who turned up to the event.
She said they had been expecting between 400 and 500 caravans and about 1,000 people.
Festival organisers also admitted being surprised at the high number of people attending.