Maldon Mud Race set for permanent switch to spring date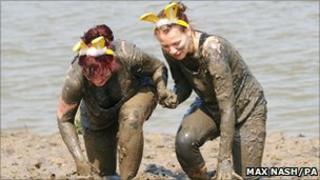 Organisers of a mud race in Essex have said the event is set to switch permanently from winter to spring.
The Maldon Mud Race, which sees more than 250 runners race across the bed of the River Blackwater, has traditionally been held around Christmas time.
This year's race was held at Easter, after its original December date was postponed to extreme cold weather.
Brian Farrington, from the Rotary Club of Maldon, said next year's race was now due to be run at the end of April.
'Improve the professionalism'
He said: "We've been in discussions with Maldon District Council who have indicated they are quite happy with that.
"It should be around the 29 April, all things being equal."
A record 12,000 people lined the sea wall in Promenade Park for the unusual sporting event on Easter Monday.
The 500-yard (457m) race, held at low tide, was originally due to be held on 28 December.
Mr Farrington believed the change of date made sense.
He said: "It doesn't make any difference in regard to the race itself, because people still get covered in mud.
"Our main concern is health and safety and then how much money we can raise for charity."
Pub bet
Mr Farrington did not think there was a danger of the event becoming too large.
He said: "I'm not sure it could become a victim of its own success because we're now taking more professional advice on how to run the event.
"We're now in long discussions with the emergency services as to how we can improve the professionalism."
The event's origins date back to a pub bet in the 1970s and it was revived in its current format in 2001.
This year's race included a number of celebrity competitors, including comedians Jo Brand and Sean Lock plus Blue Peter presenter Andy Akinwolere.