'Olympic baby' to get role in 2012 torch procession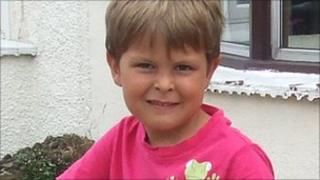 A six-year-old from Essex says he feels "very lucky" to be taking part in the London 2012 Olympic celebrations because of the date he was born.
Elliott Dolby, from Leigh-on-Sea, was one of the so-called "Olympic babies" to be born on 20 December 2004.
On that date the bid team launched their Children's Promise, offering all infants born on the day to have a role in an Olympic ceremony.
He has now learned he will be part of the Olympic torch ceremony in Essex.
As well as being on stage when the torch relay procession travels through Chelmsford in May 2012, he and his mother Jane have been given tickets to the Paralympic opening ceremony.
'Proud mum'
Mrs Dolby said: "Elliott loves sport and he's looking forward to it. It's obviously a hugely historical event to be part of, so I'm thrilled that he's got this opportunity."
More than 700 children were earmarked by the successful London bid team in 2004 in order to mark the "20/12" day.
Elliott said he felt "happy" about the chance to be on stage in Chelmsford when the Olympic torch arrives in May 2012. He added: "I feel very lucky.
"I wish skateboarding was in the Olympics and then I might be in it."
Although Elliott will not actually be a part of the opening or closing ceremonies, which was initially thought to be the case, his mother said she was happy he would still be involved.
She said: "We didn't know what to expect.
"We've got tickets to the opening ceremony, which is a huge deal and he's going to be part of the celebrations in Chelmsford which I'm sure is going to be very exciting."
"He'll get to meet other local six-and-a-half year olds who were born on the same day as him, so I'm just grateful for any opportunity he's been given.
"I'm already a proud mum, but yes I'll be even prouder."